The Flask 4999 is the latest disposable vaping device from DJPUFF. DJPUFF currently has two other disposable devices available on its website, which are the CHARM6999 and the LIT2999. As should be apparent, DJPUFF is focused on producing disposable vapes and each one that they offer is meant to appeal to the needs of different types of vapers.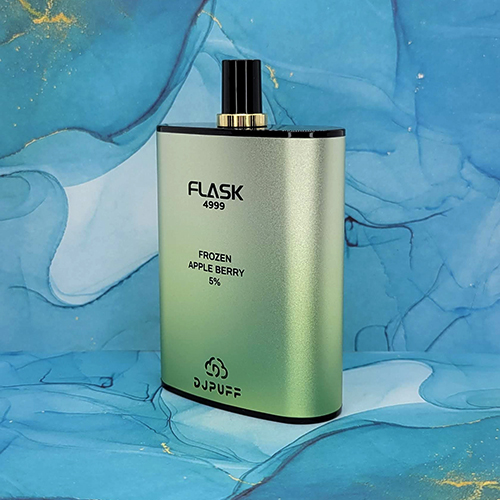 The Flask 4999 is the largest capacity and largest puff count disposable that they offer. It comes filled with 10ml of nicotine salt ejuice in 5% strength and offers up to 5000 puffs per device. Each one has a 650mAh battery which is rechargeable with Type-C charging, ensuring that you can vape all of the ejuice inside without having to worry about the battery dying.
Inside the Flask 4999 is a mesh coil to vaporize the ejuice, and there are ten flavors currently available. I'll be going over four of these flavors in this review.
DJPUFF markets the Flask 4999 as "The world's first smart disposable device", but what does this mean? Each one features a 'low-ejuice reminder', which tells you when the ejuice inside is almost used up.
If you're wondering how the Flask 4999 performs and if it's a disposable worth getting, you'll find the answers to your questions in this review.
Specifications of DJPUFF FLASK 4999
Dimensions: 82mm x 57mm x 20mm
Material: Aluminum Alloy
E-juice Capacity: 10ml
Nicotine: 5% Salt Nic (50mg)
Puffs: Up to 5000 puffs
Coil: Mesh Coil
Battery: 650mAh
Charging: Type C USB
Draw Activated
Tight MTL Draw
Design & Build Quality of DJPUFF FLASK 4999
The Flask 4999 gets its name from its unique shape and design, which looks like a small flask that you would use for alcohol. I've never seen another disposable vape with this shape, so this is truly a unique device.
The flask shape curves in the palm of my hand, and the rounded sides feel natural to hold. Gripping the device with the concave side facing my thumb feels great and my thumb rests naturally on the indent.
The Flask 4999 seems to be made of aluminum alloy for the main shell, and plastic for the top, bottom, and mouthpiece. It's 82mm tall, 57mm wide, and 20mm thick, so it's short but wide. This size places it somewhere in the middle between large and small disposables, and the width makes it something like a mini box-mod.
The aluminum alloy shell keeps it relatively light, but it still has a bit of weight to it that gives it a solid feel. Each of the different flavors is finished with a matte metallic paint which has a gradient that gets more saturated toward the bottom of the device.
Three of my four test units have held up impeccably to wear, however, my Frozen Apple Berry device is showing some signs of fading. There are noticeable wear lines where the rounded sides meet the less rounded front and back of the device, which is probably from the device going in and out of my pockets and bag.
I've also had some fading on the Flask 4999 logo and flavor, which are printed on the front of the device. This has only happened on my Frozen Apple Berry device though, and my other three units are still looking as good as new. I've used them all equally too, so there may just be some manufacturing design issues with their Frozen Apple Berry devices.
One design element that I very much like is the DJ PUFF logo, which is near the bottom front of each device. It's cut out from aluminum, which is a really cool and unique look. The LED indicator also shines through from this DJPUFF logo.
But as cool as this cut-out logo looks, it's easily pushed in and forms a sort of 'weak point' on the device. This hasn't caused any issues with the performance, but it's noticeable that the logo has been pushed in from just day-to-day use.
The mouthpiece is small, almost 510 in size. There's a gold ring at the base of the mouthpiece and it looks like it serves a purpose, but it's there purely for decoration. I thought that maybe it would allow you to adjust the draw, but it's fixed in place and does not rotate.
When it comes to design and build quality, the Flask 4999 is a nice disposable with a unique design. It's comfortable to hold and use, and the build quality is pretty good. The paint and print fading is concerning, but it only happened on one out of my four devices.
I also like how the cut-out logo looks, but it's easily depressed and looks funny once it's pushed in. As a whole, there's no major design or build quality issues, so that's good for the Flask 4999.
Features of DJPUFF FLASK 4999
The Flask 4999 comes prefilled with 10ml of ejuice and currently is available in only 50mg (5%) nicotine strength. Each one has a 650mAh battery that is rechargeable through a Type-C port on the bottom of the device. Each Flask 4999 is good for around 5000 puffs, and there is a mesh coil inside of the device that vaporizes the eliquid.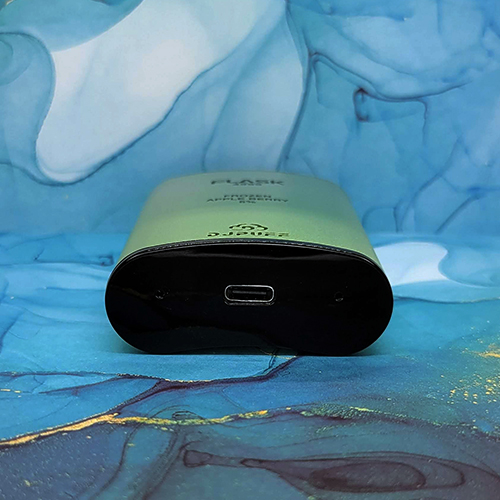 The Flask 4999 is marketed as "The world's first smart disposable device", due to it featuring a low-ejuice reminder. The Flask 4999 has a sensor inside that keeps track of the ejuice, and when it reaches below a certain level, the LED will illuminate yellow.
I like the idea and it seems like it can be a really useful feature for a couple of reasons. One is that you have an idea of when your device is almost finished, so you can go out and get another one before you're stuck without a vape. This low-ejuice reminder can also be useful so that you're wary of the possibility of a dry hit. But how does this reminder work in practice?
Well, I found that the reminder isn't all that useful in real-world use. This is because it lights up way before the ejuice is actually finished — after receiving the yellow light, I continued to vape for 2 more days of heavy vaping before the ejuice was actually finished.
It's nice to have a warning, but you don't want it to show up too early or too late. It's a delicate balance between warning too early or too late, but I think if this low-ejuice reminder was fine-tuned to give a warning just a bit later, it would be more helpful and useful.
When the battery is getting low, the LED indicator will illuminate red, letting you know that it's time to find a charger. Battery life is pretty good though, and I was able to vape for a couple of days on a single charge before having to recharge.
Flavors of DJPUFF FLASK 4999
At the time of writing this review, the Flask 4999 comes in ten different flavors. The majority of these flavors have ice or mint, so if frozen flavors aren't to your liking then you'll want to pass on these disposables.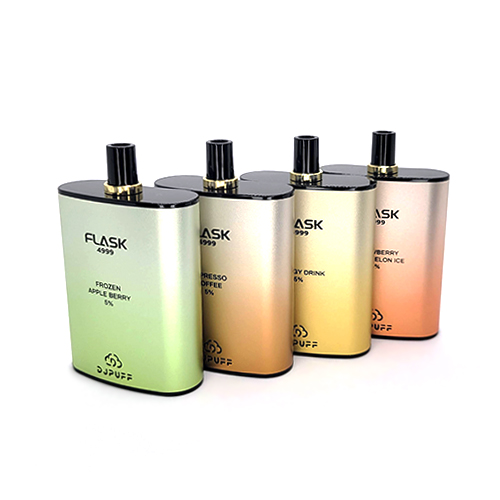 I was sent four flavors for this review: Energy Drink, Frozen Apple Berry, Espresso Coffee, and Strawberry Watermelon Ice. I'm going to describe how each flavor tastes to me and what I think of them. Keep in mind that just because I like a flavor does not mean that you will like it, and vice-versa. This is solely my subjective opinion.
Strawberry Watermelon Ice
The strawberry and watermelon are an even balance and they have a bit of a candy flavor to them which brings up the sweetness. There's a noticeable cooling effect here but I think that it compliments the strawberry and watermelon nicely. I would place this as my favorite of the four flavors that I received.
Espresso Coffee
This is going to be a flavor that you'll either love, or you'll hate. Personally, I really enjoyed it and I like the change from vaping mostly fruit flavors to something different. It's a strong, bold, and sharp espresso flavor that is accurate and natural. It's like drinking a strong cup of coffee. There's some sweetness to it, but not a lot, and a pleasant light bitterness that is the hallmark of coffee.
Frozen Apple Berry
Green apples and blueberries, what is there not to love? The fruit flavors are just right, and the sweetness is also at a good level. The cooling effect really has a kick to it with this flavor, so be prepared for the blast of iciness on the inhale. The apple flavor is stronger than the berries, with the berries coming in more on the exhale than anything.
Energy Drink
I had some of the team try this one, and we're split on the taste. Kris and I think that it tastes a lot like Red Bull, while Danielle and Robert say that it doesn't. Either way, it definitely has an energy drink 'tang' to it, with a bit of sour and a bit of sweet. There's also a bit of cooling too. I think that this is another one of those love-or-hate flavors, but I liked it. I guess that you'll just have to try it for yourself to make a decision.
How do they vape?
The Flask 4999 does what any good disposable does best; deliver satisfying vapor from an easy-to-use device. It's draw-activated only, like most disposables, so all that you need to do is pull on the mouthpiece to start vaping. The vapor is warm to a good level, and the draw is a tight mouth-to-lung.
Since these are filled with 5% nicotine salt ejuice, the draw is very satisfying and will please most heavy vapers or smokers who are looking for a high-nicotine disposable. They also produce a surprising amount of vapor, so you can blow some decent clouds too if that's your thing.
The draw from these is consistent and the same strength, even as the battery dies. You have to keep a close eye on the LED indicator because if you don't, you'll find the LED blinking and the device will refuse to fire until it's recharged. The draw staying the same until the battery dies is a big plus for me, as it allows you to use up the whole battery capacity without recharging too early, and this means longer vaping on a single charge.
The draw activation has worked well during my review, and I also haven't had issues with leaking. These also haven't malfunctioned in any way and have been reliable the entire time that I've been using them.
Verdict
The Flask 4999 is a uniquely shaped disposable that delivers a satisfying and consistent MTL draw. The 650mAh battery lasts for a few days of vaping before dying, and recharging is quick and easy with the Type-C port located on the bottom of the device.
I enjoyed all of the flavors that I tried, although they all have some level of cooling to them which I'm not super fond of. I would like to see them offer more flavors without cooling because I think that would make these disposables appeal to a wider audience.
The low-ejuice reminder that these are equipped with is a good idea, but I think it could be fine-tuned to be more useful than it currently is. With the way that it works right now, it gives too much warning that the ejuice is getting low, which doesn't really help all that much.
When you take everything into account, the Flask 4999 disposables are good devices. If you like the look and the flavor options, I don't see any reason why you shouldn't pick these up and try them for yourself.
Pros:
Flask shape is ergonomic
Design looks good
Light for the size but still feels solid
Metallic gradient paint looks great
Battery lasts for a while on a single charge
The draw stays consistent and strong even as the battery dies
Low ejuice reminder gives you a heads up that the ejuice will be finished soon
All of the flavors that I tried are great
Satisfying MTL draw
Charges quickly
Cons:
Some paint fading on 1 of my 4 devices
Low ejuice reminder could be fine-tuned to be more useful
DJPUFF logo cutout is easily pushed in and depressed
The flask design is unique but may not be to everyone's liking
Nearly all of the flavor options are ice or menthol
Copy right: VersedVaper