What's In The Box?
The DJPUFF Flask 4999 comes in a colorful cardboard box about the size of a pack of playing cards. The color of the box matches the flavor of the disposable inside, and all the information you're likely to want is clearly displayed.
The usual warnings regarding nicotine are front and centre, just below an image of the DJPUFF Flask 4999 in all its glory.
On the reverse of the box you can find the DJPUFF logo and the nicotine strength, e-juice capacity, number of puffs and battery capacity. We'll talk about it in more depth as we get into the review, but the box also displays the fact the DJPUFF Flask 4999 has a low oil (e-juice) and power reminder.
On one side of the box you can find the coil type (mesh coil), confirmation that the battery is rechargeable via a USB Type-C charging port and (again) the e-juice capacity.
DJPUFF also categorizes each available flavor on a scale out of 5 stars, covering throat hit, flavor similarity, fragrance, coolness, and sweetness – which is displayed on the other side of the box. This is an interesting concept and I'm not quite sure how they graded the flavors, but more on this later.
Finally, the ingredients of the e-juice are listed, and a QR code can be scanned to confirm the disposable is authentic. I've talked about this before in some of my other reviews and it's fairly common now with these devices, but I still think it's a nice feature.
I actually really like the packaging – it's big, bold and colorful. Everything you need to know is printed clearly and it doesn't feel flimsy or cheap like some of the wafer-thin packaging you find with other disposables.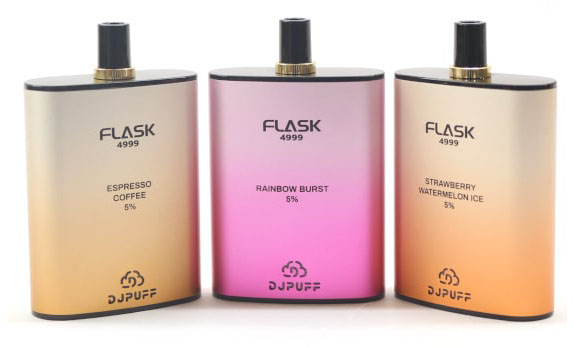 I do have a minor complaint though, and it's something our regular readers are probably sick of hearing; there's no mention of PG/VG ratio on the packaging. I won't go into full-on rant mode, but I suffer from a slight intolerance to PG (which wasn't always slight!) and it would be great to see this information displayed.
Like I said, a minor gripe…
Once you open the box you'll find the DJPUFF Flask 4999 contained inside a foil wrapper with the DJPUFF logo printed on the side.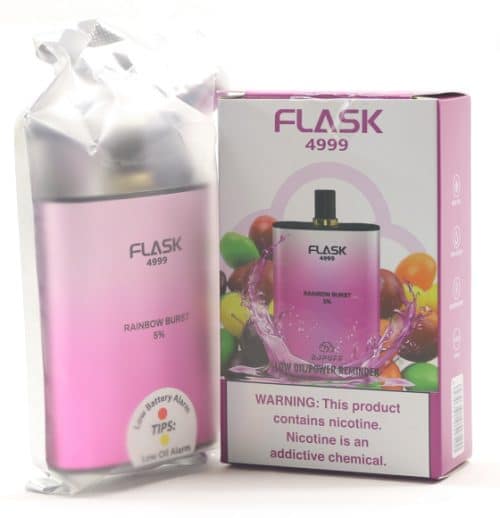 Take the sealed foil wrapper out of the box, tear it open and remove the disposable. Finally, remove the silicone plug from the mouthpiece and you're ready to puff.
DJPUFF Flask 4999 | Design & Appearance
In terms of design and appearance, the DJPUFF Flask 4999 is unique and unlike any other disposable I've tested to date, in that it's shaped exactly like a mini hip flask! We've seen some strange disposable designs over the years, some more gimmicky than others, but the DJPUFF Flask 4999 actually looks surprisingly sleek and elegant.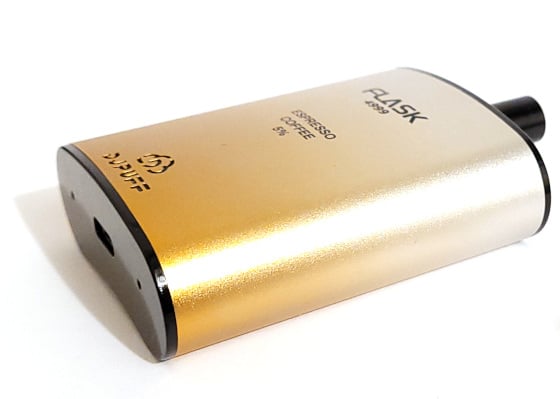 Measuring 83mm x 55mm x 18mm, the DJPUFF Flask 4999 is a slightly larger disposable than I'm used to, but it still fits comfortably in your hand and can easily be carried in your pocket. I'd say in terms of size, it's somewhere in-between the Voltbar and the Yumi EPICmod – not too big but not small either.
I've found I actually prefer the slightly larger disposables over the smaller, cigarette style devices. The DJPUFF Flask 4999 is super comfortable to hold, and with the above size dimensions and approx weight of 70g, it feels robust and well made.
If the smaller, cigarette style disposables are more your cup of tea, the Elf Bar 600 is a great little disposable with plenty to offer!
The top, bottom and mouthpiece are all smooth black plastic, while the main body of the disposable is zinc alloy in a matte finish. This matte finish, coupled with the curved design of the DJPUFF Flask 4999, help enormously with grip.
I was fortunate enough not to drop any of the samples DJPUFF sent me, which is rare for me! Luckily, if you're a bit clumsy like I am, the DJPUFF Flask 4999 feels sturdy enough to withstand anything you throw at it.
Printed on the front of the DJPUFF Flask 4999 towards the top is 'FLASK 4999′. Front and centre are the flavor name and nicotine strength, while 'DJPUFF' and their logo are etched/cut-out into the surface of the device towards the bottom.
Within the 'DJPUFF' cut-out are the LED lights that illuminate when you take a puff, charge the disposable or run low on battery OR e-juice. The LED section will pulse green while you puff until you're low on e-juice, at which point the LED will pulse yellow. Likewise, if you're low on battery the LED will pulse red – more on this later!
There's also a small gold band that sits around the base of the mouthpiece at the top of the disposable. In terms of aesthetics, the DJPUFF Flask 4999 does everything right. The overall design is unique, sleek and stylish.
It's an auto-draw disposable, so no buttons or controls to worry about. The auto-draw worked flawlessly on all 3 disposables I tested, and the draw is a nice, tight MTL style draw.
On the underside of the DJPUFF Flask 4999 is the USB Type-C charging port with two small airflow intake holes on either side. The placement of the charging port means you can't stand it upright while charging – not a major issue but I like to keep my vape devices upright where possible to avoid leaking.
Having said that, I didn't actually experience any leaking with any of the 3 samples DJPUFF sent us. I also didn't get any e-juice in my mouth while vaping, which can happen frequently with other disposables.
Each of the DJPUFF Flask 4999 flavors come in a different color, corresponding to the flavor. For example, the coffee espresso is a light brown, while the rainbow burst is a light shade of pink/purple. We've seen this time and time again, but it's a nice touch nonetheless.
Overall, I'm really impressed with the design of the DJPUFF Flask 4999 disposable! The unique hip-flask design is quirky and stylish, the size and shape result in a super comfortable vaping experience and the build quality is high-end.
DJPUFF Flask 4999 | Performance
Ok so first things first, I'm going to talk about the very few things I didn't like…
The first is another really minor gripe so forgive me for being picky, but the DJPUFF Flask 4999 is advertised as the World's first smart disposable vape with a low e-juice and battery reminder, and while this might be true, I think it's perhaps a slight misstep to push this feature forward as the biggest selling point.
The DJPUFF Flask 4999 has a lot going for it and it's easily one of the best disposables we've tested. The design is unique and sleek, the flavors are amazingly good and the battery life is next-level impressive!
And it's these positives that set the DJPUFF Flask 4999 apart from other disposables for me, not necessarily the low e-juice/battery indicator.
I'm not hyping this up when I say DJPUFF could comfortably advertise the Flask disposable as a flavor chasers dream! Or wax lyrical about the incredible battery performance compared to other disposable vaping devices…
Yes it's designed to notify you via colored LED when the battery OR e-juice is low, and this feature does have some value if you're buying/carrying one disposable at a time, but I don't know if this is necessarily a feature that would prompt me to buy the DJPUFF Flask 4999 over another disposable if I didn't know anything else about it.
I'm a firm believer in playing to your strengths, and with a slight tweak in product marketing and advertising design, specifically, to focus on the exceptional flavor and long-lasting battery life, I think the DJPUFF could very easily appeal to the mass market.
The low battery/low e-juice LED indicator is fairly straightforward; if the battery is low the LED will light up red when you take a puff, and if the e-juice is low the LED will light up yellow when you puff.
However, I'm also a bit unsure about the accuracy of the low battery/e-juice LED indicator.
To give you an example; I'd been vaping the rainbow burst DJPUFF Flask 4999 for a good long while (more about battery life in a moment!) and the low battery LED started to pulse red each time I took a draw. I continued to vape to test the battery life and I managed to get another 3 and a half hours of heavy vaping before the battery died and had to be re-charged.
Similarly, while vaping the coffee espresso DJPUFF Flask 4999, the LED started to pulse yellow to indicate low e-juice and yet I vaped heavily for another 9 hours before it ran out of e-juice and had to be thrown away.
Now I totally understand that many of you reading this will think I'm being fussy and that it's a big positive that you can continue to vape long after the low battery/e-juice LED indicator starts to pulse. But I think it left me wondering whether I even needed the LED indicator to begin with.
For example, if the gas tank in your car has a capacity of 100 litres, and the 'low' gas warning light starts flashing on the dash with 50 litres of gas left, is it really that helpful?…
Perhaps it's a calibration issue, or perhaps it's just me being picky. Let me know what you think in the comments!
The only other issue I had (again with the LED indicator!) was the fact the LED pulses green during each draw as standard, and when you're low on e-juice the LED indicator pulses a yellow color that is a bit too similar to the standard green for my liking.
I couldn't capture the LED indicator clearly in photos, but the low e-juice LED pulse (to my eye anyway) just seemed like a very slightly lighter shade of green. Perhaps if the LED pulsed orange or blue, it would be a little easier to differentiate between the two.
So what did I like about the DJPUFF Flask 4999?
Absolutely everything else!
As I mentioned previously, the airflow provides a nice, tight MTL draw. It's not too tight, not too loose. Just right if you're looking for a disposable to replicate the feel of smoking a cigarette. It's not adjustable, but I found the airflow suited me perfectly.
Throat hit and vapor production are also absolutely spot on, with surprisingly dense vapor for a disposable and a really satisfying throat kick each time you take a draw. Admittedly, the throat hit is always likely to satisfy when vaping a disposable with 50mg/ml of nicotine salts, but it's still worth noting.
The auto-draw is sensitive enough to allow a relaxed, easy draw and worked flawlessly each and every time across all 3 disposables I tested.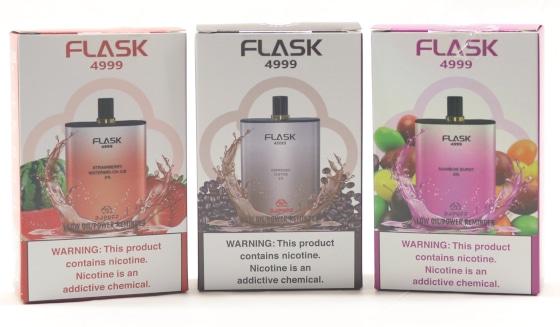 In terms of flavor, the DJPUFF Flask 4999 is outstanding and far exceeded my expectations! Each of the 3 disposables I tried were absolutely bursting with dense, mouth-watering, full-bodied flavor. The coffee espresso in particular was my favorite and definitely a flavor I'll be buying again!
But what really blew me away was the battery life. I vape pretty heavily, with my vape almost always glued to my hand throughout the day, so I was expecting to need a re-charge at some point during the day.
I started vaping the first of the 3 DJPUFF Flask 4999 disposables (the rainbow burst flavor) at around 8am the day after they arrived in the post. After a full day of heavy vaping, the red LED light came on at around 11pm, indicating the battery was low. I continued to vape and it was another 3 and a half hours before the battery finally died.
Altogether, that's just under 19 hours of heavy vaping on a single charge! If you're a casual or medium vaper, I can see getting 2 – 3 days of vaping before you need to re-charge. The takeaway is that you can easily take this vape out with you for a full day without worrying about running empty, regardless of how much you're vaping.
The battery takes about an hour to charge via the USB Type-C charging port, with the red LED indicator slowly pulsing red until you're fully charged, at which point the LED changes to a solid green. In total I got 3 full charges from the battery before the DJPUFF Flask 4999 gave up its last puff – seriously impressive longevity for a disposable.
Overall, the minor gripes I have with the low e-juice/battery indication function are far outweighed by the great vapor production and throat hit, amazing flavor and incredible battery performance!
DJPUFF Flask 4999 | Flavors
As I mentioned above, one of the best things about the DJPUFF Flask 4999 disposables is the flavors. In all of the flavors I tested, DJPUFF really hit the nail on the head with dense, full-bodied flavor in each and every puff.
Each flavor is given a score out of 5 stars on a number of different categories; throat hit, flavor similarity, fragrance, coolness and sweetness. I thought this was an interesting concept and it's not something I've seen on a disposable before.
However, I'm not sure exactly how DJPUFF came up with the score for certain categories. Throat hit, coolness and sweetness seem straightforward enough to score, but the flavor similarity and fragrance categories seem a bit arbitrary.
If by flavor similarity, DJPUFF is referring to how authentic the taste of each flavor is, then I'd say they all deserve 5/5 as the flavors are all spot on. All of the flavors I tried also had a strong, pleasant aroma that lingers for a few seconds after each puff.
The DJPUFF Flask 4999 disposable is available in a total of 10 flavors, listed below: Banana Ice, Blueberry Ice, Chill Mint, Energy Drink, Espresso Coffee, Frozen Apple Berry, Gummy Ice, Rainbow Burst, Strawberry Watermelon Ice, Vodka (I'm super curious to try this flavor!)
DJPUFF was kind enough to send us 3 of their flavors to sample, so I'll give you my thoughts below.
Espresso Coffee
Hands down my favorite flavor of the 3 I tested, the coffee espresso is a rich, sweet, creamy coffee with a delicious aftertaste. The perfect after-dinner vape, the sweetness of the coffee really comes through on the inhale, while the exhale leaves you with a rich, silky creaminess that lingers on your tastebuds.
DJPUFF has pulled out all the stops here and it's easily the best coffee-flavored disposable I've tested.
Rainbow Burst
A perfect fruity cocktail of mouth-watering flavor, the rainbow burst flavor reminded me of a certain hard-shelled, chewy candy known by the phrase "taste the rainbow"!
On the inhale I get a sharp burst of what tastes like strawberries, lemon, lime, and mixed berries. It's absolutely delicious and bursting with flavor, like a mouthful of sweet, freshly picked fruit.
Strawberry Watermelon Ice
Another amazing flavor, with strong strawberry notes and an icy kick on the, inhale and a sweet, tart watermelon on the exhale.
This is the perfect vape for a hot, humid day and a flavor I'll definitely be buying again!
Overall I was really impressed with the DJPUFF Flask 4999 flavors they were kind enough to send us. The espresso coffee, rainbow burst, and strawberry, and watermelon ice were all absolutely bursting with mouth-watering flavor and are a real testament to the quality and care that DJPUFF has put into these disposables. If the rest of the flavors are anywhere near as good, I can't wait to try them!
I must admit, I'm also extremely curious about the vodka flavor!
DJPUFF Flask 4999 | Price
At the time of writing, the DJPUFF Flask 4999 is a relatively new release and unfortunately it isn't readily available online. I could only find this online retailer selling it and the price per unit was $27.99(P.S.The actual selling price is $16.99 ), which places it at the high end of the price range for a disposable device.
Having said that, considering it should last the casual – average vaper at least a week, it's still a far cheaper (and healthier!) alternative to smoking!
When you couple this with the unique design, premium build quality and exceptional flavor, the DJPUFF Flask 4999 is arguably worth it even at the higher end of the price bracket.
However, realistically I think the price needs to come down significantly if DJPUFF hope to maintain an edge over the competition in what is becoming a heavily saturated market.
The disposable itself is certainly better than 90% of the other devices I've tested in recent months so bringing the price down to a more affordable level would really be the icing on the cake and ferment DJPUFF as a major player in the disposable world!
As with any disposable, as online retailers start picking it up, I'm sure the price will come down. Be sure to check back with us soon as I'll be updating this review if and when I find a better price.
DJPUFF Flask 4999 | Verdict
Pros:
Exceptional flavor
Outstanding battery life
Perfect MTL draw
Premium build quality
Responsive auto-draw
Unique design
Cons:
Only available in 50mg/ml
LED low e-juice/battery accuracy
Overall I'm really impressed with the DJPUFF Flask 4999 disposable! I have a few very minor issues with the low e-juice/battery LED reminder feature, but otherwise, it's a fantastic disposable with plenty to offer.
The throat hit, vapor production, and airflow are all absolutely spot on and the flavor and battery life are nothing short of exceptional!
It's the first DJPUFF product I've reviewed, and to say I'm impressed is an understatement. When they become more readily available online, the DJPUFF Flask 4999 is a disposable I'll definitely be revisiting.
CTTO: VapingHardware